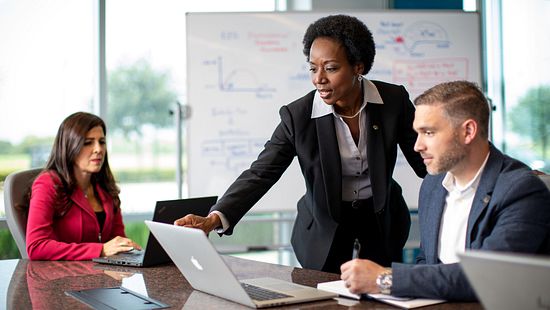 Workforce Development
We believe the success of our employees and the success of our company go hand-in-hand. Ecolab's ability to attract and retain the world's most capable talent, while deepening our relationship with existing employees, is critical to managing our operations efficiently and effectively and delivering innovative solutions for customers. We invest in professional training and development, help our employees create personal plans to achieve their career goals and conduct regular employee engagement surveys.
Learning and Development
Knowledge and expertise are core to what we do. We believe that it's essential to provide associates with continuous learning and development opportunities. As part of this commitment, we host an annual Ecolab Development Week to provide practice-oriented workshops to enhance skills and advance career development.
In 2021, we held our fourth annual Development Week. Participation remained strong despite the challenges of COVID-19 and the need to conduct sessions remotely. Our 2021 Development Week included 355 virtual events across 43 countries with more than 7,700 participating employees.
In addition, Ecolab's Employee Resource Groups (ERGs) hosted more than 375 events in over 85 global chapters in 2021. Topics included professional and personal development, diversity, equity and inclusion, healing and self-care, and perspectives from senior leaders. In the course of the year, associates collectively spent nearly 20,000 hours participating in ERG-led events. And as of Earth Day 2022, we launched the Global Sustainability Network, a new employee-led community group that will work to accelerate Ecolab's growth and impact through education, communication and collaboration on environmental sustainability issues.
We have also implemented a new approach to continuous listening, leveraging the expertise of a third-party provider to deliver regular "nudges" to associates and managers. This provides them with AI-driven insights into small changes they can make to continuously improve engagement, retention and inclusion.
2021 Employee Engagement Survey Results:

89%
Participation rate for our 47,000 associates





79%
Engagement score, a measure of an associate's emotional commitment to our organization


72%
Retention rate, or how likely our associates are to build a long career with Ecolab


79%
Inclusion index score, or the degree to which our employees feel valued in the workplace


91%
Of our team members feel they contribute to our mission to protect people and the resources vital to life


89%
Of our team members feel they have made connections with colleagues and share a sense of belonging



Leadership Development Programs
Performance Planning and Development

Learn More About Our ERGs: